Constant Pressure Pump System
SQE Pump and Motor
The SQE is the only constant pressure pump on the market fully equipped with built-in electronic controls which allow for advanced computer controlled performance and state of the art protection features including sophisticated diagnostics. The motor design is a Variable Speed Drive which electronically changes the pump speed to match demand providing you with the incredible comfort of constant pressure.
Each unit is equipped with:


Soft start – prevents water hammer and motor overheating


Dry run protection – pumps are water lubricated and if your well runs low, an unprotected pump will die


Overload protection – if a pump becomes clogged with debris like sand or grass, it can destroy an unprotected motor


Over and under voltage protection – the lifetimes of unprotected motors can be greatly reduced by improper voltages. Rural parts of the country are notorious for wide variations in voltage supply

CU301 User Interface
The CU301 User Interface is the easy to use command and control computer for operating the pump in constant pressure mode. The user simply chooses the desired water pressure by pressing the UP or DOWN arrows, and the CU301 does the rest.

In order to control pressure, it must be measured. The included pressure sensor precisely measures water pressure sending its signal to the CU301. The CU301 reads this pressure signal and then electronically commands the pump to start, stop, speed up, or slow down in order to maintain constant pressure regardless of water demand. It controls the pump via power line communications by impressing high speed data messages on the pumps power supply cable. This technology is similar to that used in a home intercom or a baby monitor.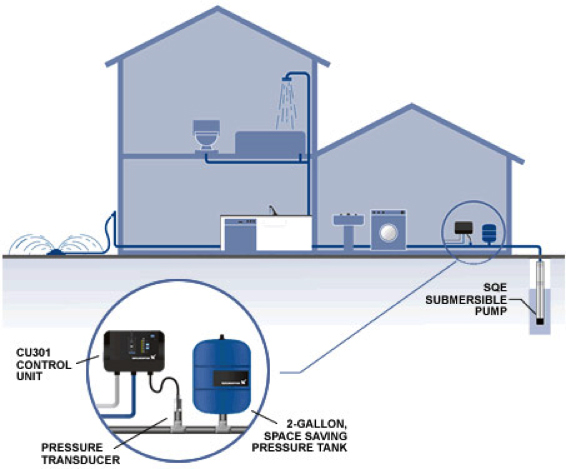 Applications
Domestic water supply
Light commercial
Irrigation
Tank Applications